Horst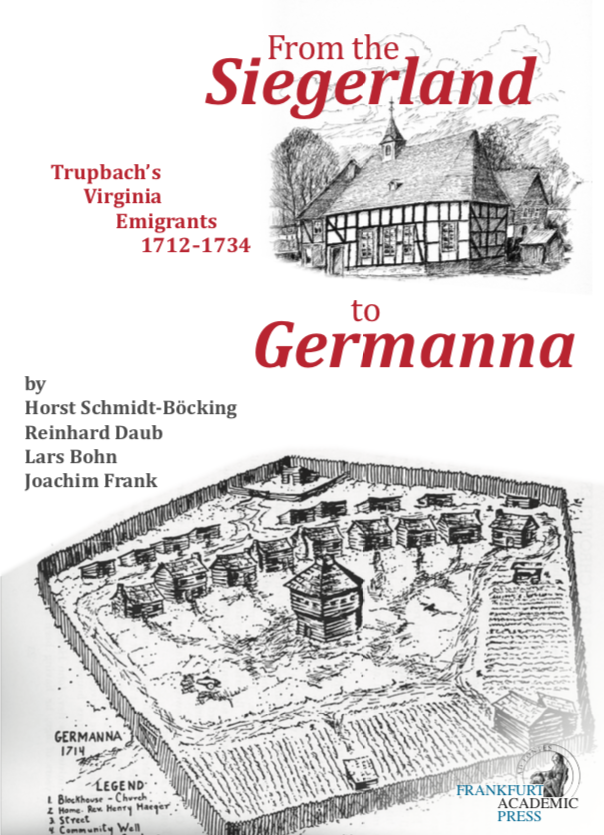 Schmidt-Böcking / Joachim Frank / Reinhard Daub / Lars Bohn
From the Siegerland to Germanna
Trupbach's Virginia Emigrants 1712-1734
ISBN 978-3-86983-447-7
the english-american edition
(look for the German edition)
244 Seiten Hardcover for 28,00 Euro
as eBook for 1,99 Euros
you'll get it HERE
In 1712, a group of German miners and smelters from the Siegerland set out with their families to help sett­ ing up iron ore processing in North America. A total of 42 people, 21 of them from Trupbach, reached the then English province of Virginia in April 1714 and founded the Germanna colony.
These Siegerland experts in iron production had decided to emigrate because the living conditions in the Siegerland were at a historical low point and the barren soil of the Siegerland could hardly feed the growing population …
This book describes the early emigrants' origins, since they formed the largest contingent of the emi­ grants. Accompanied by lots of pictures from now and then, it is intended to give the descendants of these emigrants, who are now living in the USA, an over­ view on how people lived in the Siegerland in the past and what made them decide to leave everything be­ hind.

A sample of the text / book you will find HERE or by klicking the title page above.
Inhaltsverzeichnis
Preface by Horst Schmidt-Böcking 7
Preface by Joachim Frank 13
Introduction 17
The lay of the Siegerland: Siegen and Trupbach 19
Trupbach—a short historical review 27
History of iron mining in the Siegerland and Trupbach 33
Charcoal production and the 'Haubergswirtschaft' 45
The importance of farming
53 An 'Amicable Donation'— Historical background of the 1714 emigration 63
Emigration in 1712 and final settlement in 1714 71
The Trupbach emigrants—family trees 75
The Trupbach emigrants—birth houses 79
The New Contact between Germanna and the Siegerland 95
Famous descendents of the Siegerland/Trupbach emigrants 97
Acknowledgments 107
References and Remarks 108
Appendix I:
The 1989 Siegener Zeitung article 112
Appendix II:
Encounter in an airplane 117
Appendix III:
Ancestry research on the American side
by Benjamin Clark Holtzclaw, Jr. 123
Appendix IV:
Ancestry research on the American side
by William Irvin Utterback 127
Appendix V:
On the origin of the Otterbach family 133
Appendix VI:
Family trees of the emigrant relatives in the Siegerland 136
Johannes Otterbach 136
Hans Holtzklau 149
Johann Kemper 166
Johannes Fischbach 182
Christoffel Richter 200
Henrich Spielmann 214
Johannes Brombach 230
Hans Merten 244
The Authors 244
From the Siegerland to Germanna
also as an eBook for 1,99 Euro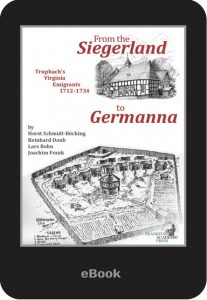 more HERE